Research from the past decade by the Black Women's Blueprint and the Black Women's Health Imperative shows that some 40 to 60 percent of U.S. Black girls are sexually abused before age 18. Those girls are likely to be labeled fast-tailed retroactively by people who need to believe that what happened to them was their fault; they must have done something to entice a man's interest, so abusers get a free pass. This was evident when R&B singer R. Kelly, who when he was 27 married the then-15-year-old performing artist Aaliyah, was allegedly caught on film urinating on another teenager; his subsequent trial on child pornography charges wasn't enough to end his career, much less affect his freedom. Kelly's ability to avoid consequences is unsurprising. Often it is easier for communities to focus on the girls in such cases than on potential predators.
—

Mikki Kendall

, Of #FastTailedGirls and Freedom
Legitimate Rape? A Rape Victim and Counselor Reflects on Rape Culture Myths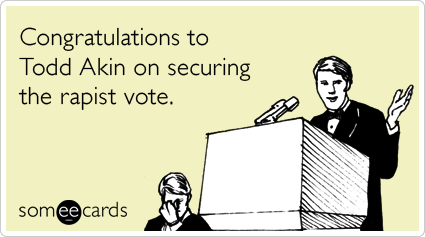 Written by Kim Shults for RH Reality Check. This diary is cross-posted; commenters wishing to engage directly with the author should do so at the original post.
"The events as you've described them, Kim, constitute a felony rape. If you do not make a statement, we will still proceed with prosecution and regard you as a hostile witness."
I was 20 years old, on a semester leave from college. Those were the words of the police officer to me, in a hospital room, after I recounted what had happened to me a couple of days earlier.
It was my first interaction with the police, other than Officer Friendly visiting my elementary school class, or one of the officers my parents had befriended when they started a Neighborhood Watch program in the community where I was raised. Surely I could trust the police, I thought, to understand what had happened and to help me.
Although this was more than 20 years ago, I remember the moment vividly, because it was the acknowledgment, the naming, of something I had been struggling ferociously to reject: I was raped.
I desperately wanted it to be something else, like a misunderstanding between me and this man I'd been dating for a week or so. I felt locked in a life-or-death battle to deny this heinous violation, because it threatened to undo me—my sense of personal safety and well being, my mental health, my personhood.